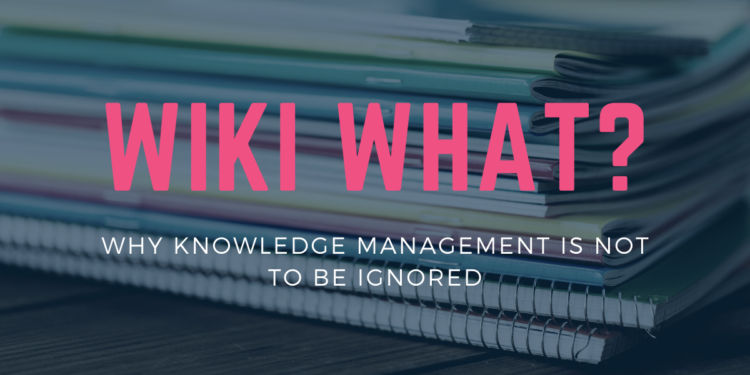 What is a wiki?
A wiki is a website or database where multiple users collaboratively add and edit content to share knowledge. It requires high trust but allows for quick sharing and fosters collaboration.
Why the heck is it called a wiki?
The first known website wiki was called WikiWikiWeb. Wiki means quick in Hawaiian. Wiki wiki equates to really quick. So essentially it was the really quick web. This site was a place where multiple users could contribute to this shared knowledge repository on software design patterns.
Hot Nerd Knowledge: Wikis traditionally used camel case, also know as camelCase. This is used when joining words together and capitalizing the joining word. Think iPhone and eBay. It was/is preferred when writing computer programming language to make strings, variables and more – easier to read. Some also use the variation CamelCase, for example FedEx.
Why is knowledge management important?
"Fortune 500 companies lose at least $31.5 billion a year by failing to share knowledge, according to International Data Corp. (IDC), a Framingham, Mass.-based market intelligence and advisory firm in the IT and telecommunications industries." according to an SHRM article.
Are you sick of employees asking, "Where is the expense policy?" Then a wiki may be just the answer for that.
What to consider
A few things to consider when creating a successful wiki:
How do you make a wiki?
What does it look like?
Start with the things to consider listed above and get a general idea of what you are looking to do. Then start researching and look at recommendations and reviews.
Search for the cons of each application.
Each application is going to tell you it is the best one-size-fits-all solution. None of them are but that's why I like using a mostly agnostic tech stack so that I am not tied to any particular expensive application suite.
Here at The Officials HQ there is one application we are really loving at the moment called Notion. Notion is used by McDonald's, WSJ, Monzo and more. That perked our ears for sure. (Check out of Notion blog here).
Traditionally wikis are made up of links, text and some images. Often there are links back to origin of the information to support it. We use a wiki here at HQ for our How To documents, checklists, policies, processes and contacts and even as a CRM. We love checklists here. I could write a whole course just on how important checklists are…hmmmm…anyway…
We make sure to foster from Day One the importance of tracking all information and new processes…and of altering existing ones if we find a new and better way to work. Writing down systems and checklists so that information is redundant allows us to work flexibly. We can fill in for each other when needs be and no one is empire building. We all have value and know we are valued and we can keep adding to the collective repository exponentially.
Shared knowledge as a core tenant
Shared knowledge is the basis of The Officials. We started as a community where admins and assistants could share information. A wiki would allow us to document that information into a repository for anyone to search and add to…hmmm…another idea coming.
Asks self: Should we create an admin and assistant wiki?

Me: Yes!

Also Me: This is why I never get stuff done! My brain is full of too many ideas!

This is very close to the basis of the idea for our Doc Bank in The Officials. The Doc Bank is where Officials can submit processes, policies, templates and more to a community bank so we can all review and pull info that works for us. We had already been planning to revamp that page and in the process of writing this blog I think I've just determined how. So watch this space. The Officials Wiki is officially a project.
Okay so back to how you can learn more about creating your own wiki. We show you how to do this in our new course on Notion. Check out more about Notion in this free webinar.
Check out our course on Notion
Notion: Harnessing the Power of Knowledge
Our latest course is brought to you by guest instructor Laura Johnston of The Assistant's Handbook and a member of The Officials.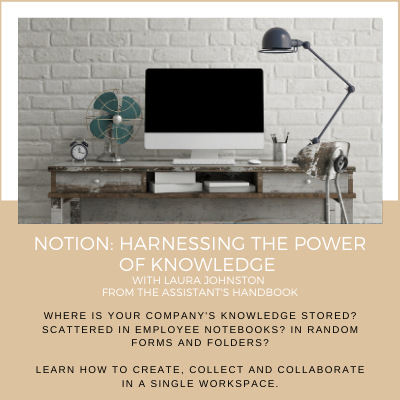 BONUS: Access to The Officials HQ training platform and community where you can access training courses, templates and an army of incredible admins and assistants across the globe who offer advice, cheer you on and support your journey.
---
This post was written by our guest instructor for the Notion: Harnessing the Power of Knowledge course, Laura Johnston. Laura is an EA, the Founder of The Assistant's Handbook and an Officials member. If you are interested in being a member you can learn more .
Please note this page has affiliate links. You can read our Affiliate Disclaimer for more information.