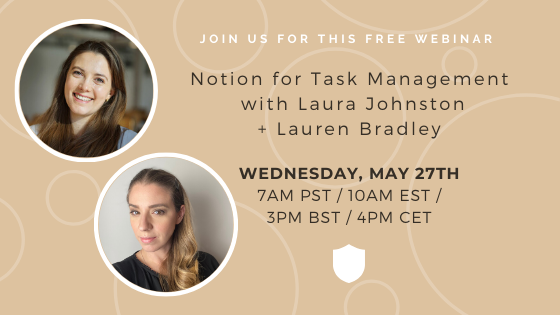 I've been speaking nonstop with assistants since we went into lockdown here at The Officials HQ and everyone has tech on their minds. There have never been so many assistants working from home and it is pushing all this tech right to the front of your minds.
One question that caused a big reaction was "How do you track your day to day?" The tech savvy Laura Johnston of The Assistant's Handbook (and an Official!) told us all about Notion, and we were hooked! So we teamed up with her to bring you our next course Notion: Harnessing the Power of Knowledge which will be released next week. Read more about this powerful and collaborative tool with the potential of becoming your new best friend.
For this free webinar, Notion for Task Management, Laura, an International EA and Notion whiz, will show you how she uses Notion every day. She will also share her number 1 time-saving Notion trick and why it could transform your entire on-boarding process.
Don't miss this sneak peak behind this brand new course and come join us on
Notion for Task Management
Wednesday, May 27th
7am PST/10am EST/3pm BST/4pm CET
This is part of a collab series with The Officials x The Assistant's Handbook. So make sure you show Laura some love!