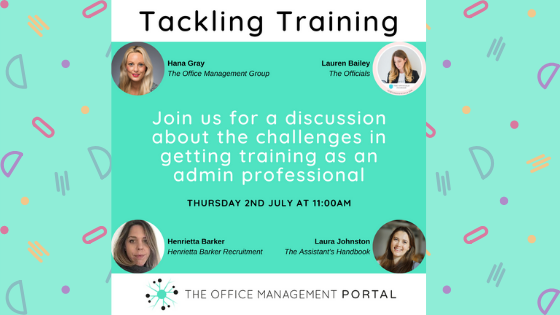 Come watch this fabulous panel discuss the difficulties that admins face when seeking out training and get some practical tips on where to find it.
July 2nd @ 11 AM BST
(Replay will be available)
On the panel:
This event is hosted by The Office Management Group.
Officials get a FABULOUS 35% discount when you sign-up to the Enhanced Membership using the code: THEOFFICIALS
About the Office Management Group PortaL
In a nutshell, the Portal is a specialist online hub for office management and admin professionals – a community full of resources and contacts, helping professionals to manage and maintain their office and facilities with confidence and ease, carry out projects seamlessly such as office moves, fit outs and changes and upskill and fill gaps where they may be lacking expertise, or support in-house. This is a great resource for UK-based office managers and facilities managers.