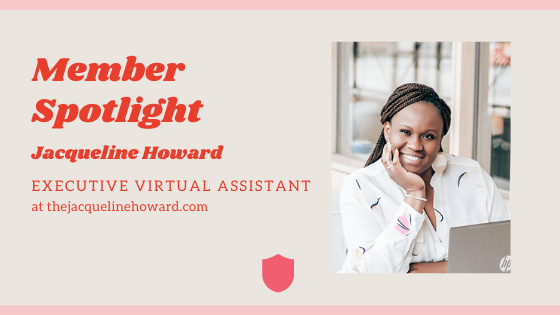 Each month we highlight one of our members, not only because they are fabulous people but also because we fully believe that shared experience and knowledge is important and makes everyone better people.
What is your name?
Jacqueline Howard
Where are you at in the world?
Detroit, Michigan
What is your job title and place of work?
Executive Virtual Assistant (Independent Contractor) at thejacquelinehoward.com.
How long have you been an admin or assistant?
5 years
What are your favorite admin tools?
Canva, Siri , G-Suite, Dubsado, Pen and Paper
How do you stay on top of your to-do list?
I focus my mind on the mission of the job, month, week, day or hour not the individual tasks. That helps me give my energy to the top priorities,not get overwhelmed, and stay joyful when interruptions happen.
What is your favorite part of the job?
Learning! I love learning new things.
Tell us something you are proud of professionally?
That I was able to create a job for myself, impact businesses and be with my children.
What is some of the best advice you've been given that relates to your job?
Celebrate your wins. Learn from your failures but do not beat yourself up about them. Being human is an art, not a perfected science.
Being human is an art, not a perfected science.

Jacqueline Howard, Executive Virtual Assistant
What website do you visit the most?
Google (always researching and learning).
Currently watching/reading/listening to:
I am reading Project Management for the Unofficial Project Manager by Kory Kogon.
If you were handed a plane ticket to go anywhere in the world where would you go and why?
London for sure! I would love to meet Lauren!
Why are you a member of The Officials?
The community and the support.
Any further comments you'd like to share?
Thank you for this incredible community of the most generous and kind humans on the internet!

Jacqueline is an absolute delight and an incredibly dedicated business owner all while being a mother of four! SUPER WOMAN!
She makes her business work for her own life goals. You can see her in our EA to VA course webinar as well as our Passing the Love video on IGTV. Thank you, Jacqueline, for being such a fabulous member of our community and for the incredibly kind words! I can't wait to see you in London! x L.
If you would like to connect with Jacqueline and our many other incredibly supportive members then join The Officials HQ. We are waiting to welcome you with open arms.
Please note this page has affiliate links. You can read our Affiliate Disclaimer for more information.