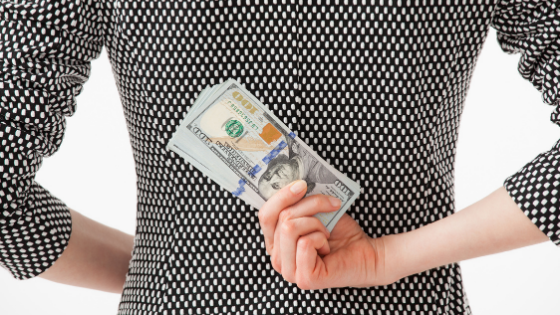 My own wedding taught me a HUGE lesson in negotiating with vendors and about sales in general. I even used this lesson when I would negotiate my salary with new employers.
My husband and I had an unconventional relationship. For starters, he lived in London and I lived in Pittsburgh a mere 3,700 miles away. He proposed the day before Thanksgiving (after about 1.5 years of dating) and we were married less than 3 months later. In fact I quit my job the Monday after he proposed, not to return and flew off to London with him a week later until just before our wedding when we returned to Pittsburgh to get hitched.
Short on time
We didn't have much time to save up for a wedding but both of our parents offered to split the cost of the wedding. We had a modest budget and were able to throw a bash for 80 attendees plus use the leftover money to pay for my visa costs to come to the UK. We didn't have much time to plan the thing either. I had a week to find a venue, dress, invitations, and more.
Because I needed to make quick decisions on budget, I felt a bit more ruthless. I could walk away from suppliers because I knew I had to find another one quickly who could do the job on budget.
Rewriting the rules
I knew nothing about weddings or what I was supposed to do. Sure I had been to many but I am pretty frugal and I wasn't someone who would be spending extravagant amounts of someone else's money.
But the day I bought my wedding dress changed the way I think about negotiation. I bought my wedding dress in the first shop I went into. It was the second dress I tried on. This is how that interaction went:
Me: *walks into swanky dress shop*
Shop Assistant: Hello. Do you have an appointment?
Me: Oh, ummm. No I didn't know I needed an appointment. I'm getting married in a few weeks and I just wanted to try on some dresses while my sister was in town. We'll go.
Shop Assistant: Wait, wait. When is the wedding?
Me: We think in about 2-3 months. I know that isn't much time to turn around tailoring on dresses. We'll go.
Shop Assistant: Wait, wait. Let me see if we can squeeze you in.
It's around this time that I realized just how posh this place was. I started getting nervous.

Shop Assistant: If you can wait 15 minutes we can get you in.
Me: Umm…how much do the dresses here cost?
Shop Assistant: They typically start at $3,000 and go up from there.
Me: We should go. I'm sorry to have wasted your time. I do not have thousands for a dress.
Shop Assistant: Wait, wait. What is your budget for a dress?
Me: Well…I think about $400-$500.
Shop Assistant: What size are you?
Me: I'm a size 12.
Shop Assistant: *Disappears for a while and pops back* We have 3 sample dresses for sale in that size. If one of them suits you we can sell it to you for $500.
SOLD!
Conviction is key
That day changed the way I thought about negotiation forever. I knew that amount was all I had to spend on my dress. The shop assistant knew it too, she could sense my conviction. I believe if I had said my budget was only $400, I would have likely only paid that for my dress. Baby steps.
Now, I had met a few florists before going to the dress shop. They all asked what I envisioned for my wedding. I told them all I loved peonies and wanted them everywhere. I showed them Pinterest photos and magazine clippings. All of them quoted me several thousand. If you know me…I ain't spending thousands on some petals. Over and over, shops kept asking me the same questions and quoting me the same prices.
Managing Expectations
After the wedding dress incident, I went to one final florist. This time I did not start off by discussing my dream flowers. I started by telling her that my budget for flowers was $600, that I had been to several shops who had quoted my several thousand and had only asked me what I wanted for my dream wedding. No one had asked me how much money I had to spend. In fact, they all let me walk out without asking me.
My florist was lovely, we did discuss my vision for the day and she told me which flowers would be easiest to source (in February in Pittsburgh ❄️) and for a reasonable price. We chose hydrangeas that were a better match for my budget but had the same appeal. She was so helpful and I've recommended her ever since because she did a gorgeous job on budget.
Powerful lessons
The powerful lessons I learned from these experiences were…
Work with helpful vendors you can trust to give you honest feedback
Do your research and set budgets for each area of your event. Use that number to negotiate your price
If you truly believe in your price, so will your vendor.
Tried and tested
These lessons were even more poignant when we purchased our first home. We had put in an offer on a house that needed a LOT of work. We had put in a lower offer knowing we would have to use the remaining money we had to replace all of the floors.
When the offer was bounced back to us to bid higher without any guidelines, we went up by $10k but no higher. I told the agent that we could not afford to go higher while standing next to my husband who knew full well we had another $10k we could have offered. He started to say we could go higher, but I shot him a deadly look. Can you tell I didn't trust this agent?
I repeated that we really had no room to bid higher if we were to fully repair the house. I knew that I had to really believe in what I was telling the agent, that if I believed she would believe as well. Yes, we could have gone up but we would have struggled to afford the near-complete remodel we needed to do on the house to make it liveable.
She was convinced, though she had encouraged us to offer a bit more. But my conviction led to her conviction which led to our offer being accepted.
Because of that lesson, I bought a house for a very reasonable price, fixed it up and was able to sell it for a profit a few years later when we moved back to London.
Three steps for negotiation
Set your desired figures ahead of time. Now what you want and what you will accept. Do your research. Make sure that number is solid and not a hugely unfair or unrealistic figure.
Convince yourself that your desired number is the only number you will accept. Which means deciding that you are willing to walk away in that moment.
Throughout the discussion be confident but friendly and likeable. You and the supplier (or future employer if you are job hunting) are a team. This isn't a "you vs me" situation, it is just a discussion to solidify you both being on the same team.
Be prepared to walk away. Seriously. You can always wait a day and say you crunched some numbers and can accept a deal at a new amount. However, if you came up with the right figure in the first place then you won't need to go back because you will find a better fit for both of you elsewhere.
I hope this story will give you the confidence to be a better negotiator, especially when speaking with suppliers for any events you have planned.
Event Planning and Management 101 Course for Admins and Assistants
This course is for you if…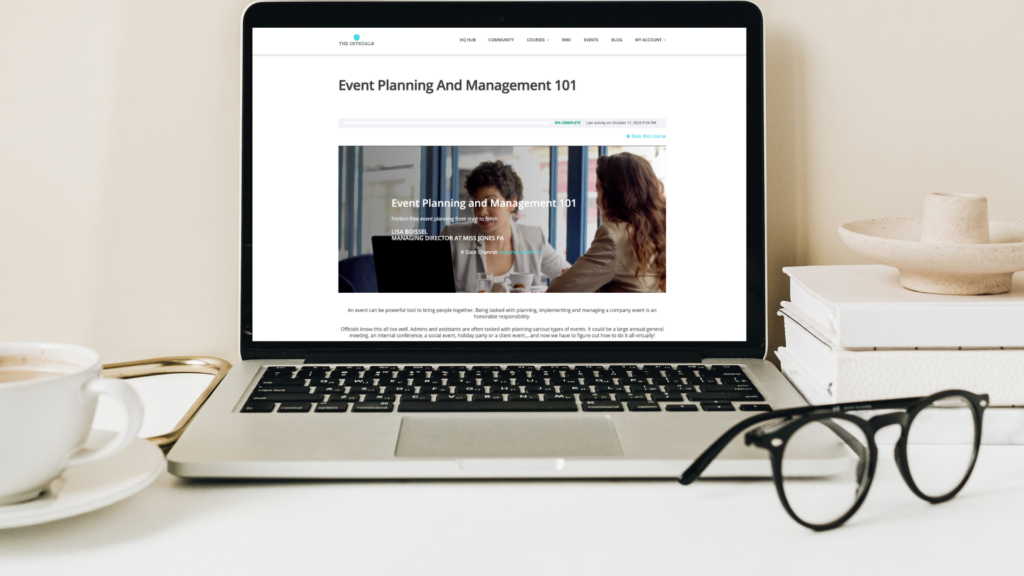 During the course you will master
And if that wasn't enough, you will also become part of our amazing Officials Community with whom to build your support team.
The Event Planning and Management 101 course bundle is part of The Officials HQ membership. The HQ platform is where you will have access to The Official active Slack Community, a library of courses and useful templates and resources that will take you from an assistant who is surviving to thriving!