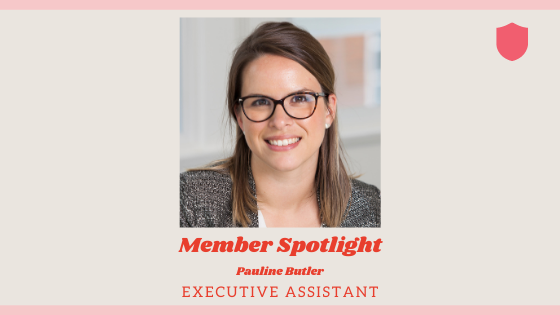 Each month we highlight one of our members, not only because they are fabulous people but also because we fully believe that shared experience and knowledge is important and makes everyone better people.
What is your name?
Pauline Butler
Where are you at in the world?
I live literally between London and Brighton in the UK. For people who know, not far from Gatwick airport. But looking into buying a house at the moment. So that might all change, but still roughly in the same county.
What is your job title and place of work?
My title is "Executive Assistant" and I work for Harbour Litigation Funding. So we are basically on the UK's first litigation funders and one of the largest litigation funders in the world. We basically invest in commercial litigation/arbitration by funding up to 100% of the costs to conclude a dispute. If the case is settled/won, and only if monies are collected, Harbour receives its investment return as a pre-agreed share of the proceeds Harbour invests by paying the legal bills for the life of the claim.
How long have you been an admin or assistant?
It has been about 8 years now and 5 year at Harbour.
What are your favorite admin tools?
Outlook desktop version is probably the office tool I struggle to do without. I know I need to get trained a bit more on Gmail. Then all the Microsoft office packs and I love Microsoft Teams, I found it really friendly/easy to use.
How do you stay on top of your to-do list?
I found myself updating my to do list in the evening for the next day. So that I start the day with a clear list. And in the morning I start by looking at my directors' inboxes/sent items and I will add to my list anything needed.
What is your favorite part of the job?
When I can cross things over on my to do list 😊

Favourite part, I think is for me, the sense of team work. Even though I don't have the level of my colleagues being lawyers, I do feel part of that team by helping them when needed. (I look after the CEO and the CIO and her team)
Tell us something you are proud of professionally?
10 years ago, I was just coming back from a 1,5 year of backpacking in Australia. And I came back to London, working in hospitality and worked my way up to where I am now, which I am really proud of.
What is some of the best advice you've been given that relates to your job?
You can't change people; you can only adapt yourself and let things go.
You can't change people; you can only adapt yourself and let things go.

Pauline Butler, Executive Assistant
What website do you visit the most?
timeanddate.com
Currently watching/reading/listening to:
I am finishing Michelle Obama's book: "Becoming" and a French book "a la Lumiere du petit matin" from Agnes Martin-Lugand
Listening to "Happy Mum, Happy Baby" podcase by Giovanna Fletcher as I am newly pregnant.
I am not really watching anything in particular at the moment…..
If you were handed a plane ticket to go anywhere in the world where would you go and why?
Well, we would be on other situation than now, I would have said: Laos, Vietnam, Cambodia, Italy, Morocco, Canada, Guyana, Martinique.
However, since we have been in this pandemic, I would die to go home for Christmas and see my family in France.
Why are you a member of The Officials?
Lauren is absolutely amazing. I started my journey with The Officials right at the beginning when Lauren was launching her brand new coaching program, and this was such a great experience. And looking now at how Lauren/Marta developed it, it is incredible! The content is really useful and the chat is great for support, fun and helpful information. Even though I can't keep up with it all. 😊
Any further comments you'd like to share?
I am really grateful that Lauren and my paths crossed. I so appreciate her support and advice when needed.
I also had the pleasure to meet with Marta, and what a great meet up it was!
Pauline is one of the hardest working Assistants you will ever meet. She is always ready to tackle anything and everything thrown her way. She is one of our original members having been with us since we first launched and we are so lucky to have her as an Official.
If you would like to connect with Pauline and our many other incredibly supportive members then join The Officials HQ. We are waiting to welcome you with open arms.
Please note this page has affiliate links. You can read our Affiliate Disclaimer for more information.