Welcome to your Culture Stakeholders Lesson
Admins + Culture
I think of assistants and principals much like I do doctors and nurses. The doctor (principal) reviews the issues, the data and decides a course of action. The nurse (assistant) has gathered the information to present to the doctor by speaking with and getting to know the patient and then carries out the course of action. We are the humane side of this team. They reassure the patient, we track their progress all while getting to know them.
Assistants are very much the same. We thrive on the people aspect of the organization. We want to help solve their problems for a living!
Culture is about coming together as a people, a collective people. It is a natural link for assistants and admins (especially office managers) to be in a position to highly impact culture. We are people people! This is our jam.
So how can you hone your culture skills? We will get into the training of a culture keeper a little later in the course but know that you likely already have the characteristics needed and it's just a case of becoming aware of them and using those powers for good.
Also, as the right hand to the figureheads of many companies, executive assistants often embody advisors to their principals – keeping them focused on growth and goals and with a pulse on the heartbeat of the staff. Perfect placement to introduce initiatives and advice that can make a lasting and positive impact on the organizational culture.
How important is leadership buy in?
In short, VERY! Depending on the stage of your company's growth the way that leadership shows support may differ.
For instance, at a startup it is almost impossible to separate founders from organizational culture. They define it – usually with their own purpose and ambition. Often they don't even realize what they are doing…creating a following. Sometimes they are aware of their brand and carefully curated. I've mostly seen it somewhere in the middle.
"From my experiences, a clever founder attracts talent through their vision and pursuit of innovation but a clever founder also hires talented Marketing and People teams. Those teams work together to construct a brand to the outside world and an image of the internal culture amplified and idealized to the outside world," says Lauren Bradley. "This is fully intentional. Positive organization culture has to start from within. You can't have a good brand culture that your customer sees and expects and a poor internal culture. People will find out about it and it all falls like a house of cards. Just ask any company that has had a bad review on Glassdoor. There must be authenticity and harmony from the inside out."
A company is stronger if bound by love than by fear.

Herb Kelleher, Founder of Southwest Airlines
A pioneer in creating a positive organizational culture was Herb Kelleher. Kelleher was the founder of Southwest Airlines and took a no-name airline from zero to 3500 flights a day. At one point when the airline was struggling customers were actually sending checks to the company's HQ because they so deeply appreciated the brand.
If the employees come first, then they're happy…. A motivated employee treats the customer well. The customer is happy so they keep coming back, which pleases the shareholders. It's not one of the enduring green mysteries of all time, it is just the way it works.

Herb Kelleher, Founder of Southwest Airlines
Kelleher's leadership was intimately intertwined with the culture of Southwest so much so that his legacy still bleeds into the culture today. At the time this course is being written, the COVID-19 pandemic is only just beginning to show its devastating consequences to the economy on a global scale.
Southwest Airlines like many, MANY other companies cannot sustain its workforce. Though Southwest Airlines is long past being called a startup with approx 60k employees (before this article) the organizational culture and legacy of Kelleher remains. The airline is offering its most generous buy out ever* to its employees.
Current CEO Gary Kelly showed appreciation to employees who took buyouts and extended leave, making it personal and full of gratitude.
I'm incredibly grateful to those of you who answered the call. I know there are stories behind every one of those 16,895 decisions — from your incredible history at Southwest Airlines to stories of what's ahead in your next phase. And I personally know a lot of those stories, and it is a bittersweet moment for us, for sure.

Gary Kelly, Current CEO of Southwest Airlines
Another leader who has been able to take a small company to a large corporation and keep the original culture kicking is Danny Myer of Union Square Hospitality Group, owner of the famed burger joint Shake Shack.
Many don't know this but Shake Shack actually started off as a hotdog stand created in an effort to revitalize NYC's Madison Square Park. After the pandemic affected the company's business and ultimately its staff, Myer and his team decided to make a drastic pivot for the good of its staff.
If we cannot be good employers right now, how can we possibly recast ourselves as being really good unemployers? And we started making a whole host of decisions. The first was pretty easy for me. We would set up an Employee Relief Fund. I gave 100% of my compensation to the fund.

We started selling gift cards for a week with 100% of the revenues going to the fund. We just felt that we would create a whole range of resources to an amazingly robust job board because it turns out that a lot of like minded companies are in fact doing really well right now and they wanted to recruit members of our team.

Danny Myer, Founder + CEO of Union Square Hospitality Group
What Myer was able to do was grow his business from one restaurant to hundreds of restaurants while focusing on a culture of Hospitality – not only for the customers but for the employers. The "Be Good" values at Shack Shake clearly outline the social responsibility Myers's embodies and continue to bleed into the business even during a time where they must let go of so many employees.
Please listen to the How I Built This podcast below where Myer explains from 46:42 how they pivoted into being good 'unemployers'.
In larger companies, or where employees believe the culture is toxic (or at the least not good) culture correction will likely start from an internal group of leaders but not necessarily the C level figureheads who only need updating.
Culture Committees + Culture Correction
Leaders don't always cite as the heads of cultural committees in the office but as stated above they can sure set the culture that needs to be kept and curated by key stakeholders within the business. These stakeholders can come from anywhere in the business but a good place to start is:
People/HR teams
Marketing/Branding Professionals
Notably beloved figures within the organization
Staff that will be responsible for implementing initiatives (such as office managers)
In the case of larger organizations, committees are often in charge of marketing the culture internally and externally and measuring its effectiveness. Leadership is responsible for embodying the values of the company but do not have to be in the physical meetings.
In the case where culture is in desperate need of correcting, new leadership may be involved in initial visionary meetings, leaving the committee to mold the new culture and scour the stain that poor culture leaves.
We'll talk more of that later in the course.
---
The Southwest Airlines Buyout article is also available here as a PDF if you have issues reading due to your region.
Want more?
Check out our Organizational Culture, Community and Inclusion
When you are done with the course, you will:
And if that wasn't enough, you will also become part of our amazing Officials Community with whom to build your support team.
Want Full Access?
Our doors are open for a limited time.

Make it Official.
And if you are thirsty for more, our doors are open, and you'll be able to get full access to all of the knowledge you need to be a successful admin and/or assistant.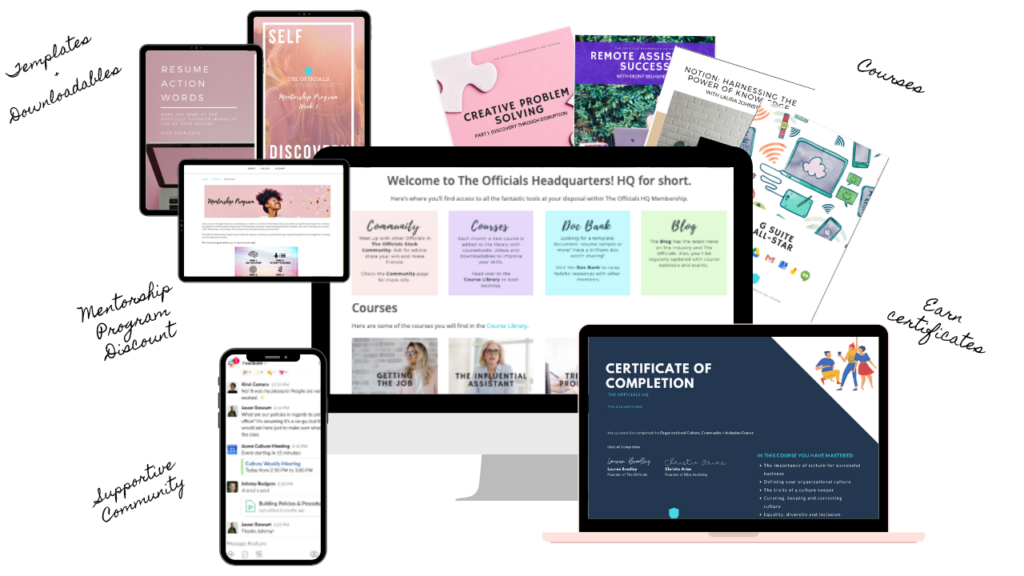 We don't want anyone to miss out on vital training and support because of cost, which is why The Officials HQ membership is so affordable.
Level up and join The Officials today today.
And if that wasn't enough, you will also become part of our amazing Officials Community with whom to build your support team.
This pricing includes an initial $25 joining fee.
Click on each membership to find out more.
Monthly
1 month for $46.99 then $21.99/Month
Monthly Promo
One charge of $81.07 (15% discount) for first 3 months, then $21.99/Month
Annual
First year for $270 (7% discount) then $245/Year
Paying in a currency other than USD? Check current exchange rates here. This is just a link to common exchange rates. Your financial institution will do the final exchange, the link provided is just for estimation purposes.

Cancellation – The power is in your hands. You have the ability to cancel at any time in the Account section. If you cancel your membership, all future payments will be canceled and you will have access until the current billing cycle ends.