Next round starts June 1, 2020.
Have you ever thought about your potential as an admin or assistant? Wondered about your ability to significantly impact the company you work for and the people around you? Felt there was more you could be doing but weren't exactly sure how to identify your unique skills? Wished you could speak with someone who has been there and done that?
The Officials Group Mentorship Program was created to help you unlock your potential through supportive guidance, encouragement, training and introspective activities.
The program takes you on a journey through: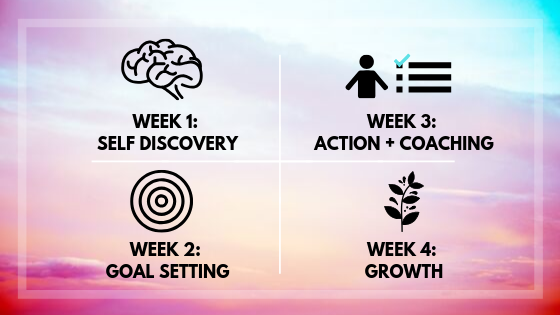 Week 1: Self-Discovery
This is where you will get to know the other mentorship members and more specifically you will get to you know yourself better. You will complete activities designed to get your brain buzzing, thinking about what you would like to achieve during your journey and beyond.
Week 2: Goal Setting
Setting goals gives you long-term vision and short-term motivation. Activities this week will help you clearly define your goals and set actionable steps to achieve them.
Week 3: Action and Coaching
Ready! Set! Action! While working on the steps to achieve your goals, we will be discussing tips and tricks to help make your life more productive, easier and more content.
Week 4: Mapping My Journey
In the fourth week of the journey we will review your progress and map out how you will continue your success long-term.
Week 5 + 6: Follow-up
Two weeks post-program we will check-in for a follow-up to see how you are progressing. You will continue to have access to your mentorship group for support as well.
Throughout the Program you will have…
3 x group video chat sessions with fellow mentees lead by your mentor, Lauren Bradley
The continued support of fellow mentees through a private Slack channel
BONUS: Three months access to The Officials HQ training platform and community where you can access training courses, templates and an army of incredible admins and assistants across the globe who offer advice, cheer you on and support your journey.
---
What past mentees have to say…
I think the mentoring helped me so much and gave me the confidence to be considered for this promotion – so thank you!
The workbooks are impeccable. They are very well laid out. The homework assignments are not too hard or voluminous. They provide you the opportunity to practice a new skill/thought process.
My weekly win without a doubt has been starting the mentorship program which in the space of 5 days has led to: gratitude, increased happiness and positivity, confidence and influence.

---
Ready to sign up?
Click Join below to kickstart your personal journey to access tools that will help you find more meaning in your role and will help you set the course for success in your future. I can't wait to see you there.
Sign up if you are:
Ready to invest time in yourself to reach your full potential
Feel there is more you can give as an admin and assistant
Looking for access to others that are on this same journey
Looking for an experienced, award-winning mentor that knows what it takes
Want to maximize your impact and skills
Ready to reach the stars!
---
Improve your career. Gain confidence. Meet your goals. Be empowered.
The next mentorship round begins June 1, 2020.
Join now for only $250. Split payments available.
---
Cost as of Jan 27 2020: $250 USD/appx £200 GBP/appx 225 Euro/$369 AUD
Paying in a currency other than USD? Check current exchange rates here. This is just a link to common exchange rates. Your financial institution will do the final exchange, the link provided is just for estimation purposes.