Welcome to your Intentional Search Lesson
The start of your journey will be to look inward and take stock of where you are in your personal and professional life. Once you have a firm idea of where you stand, think about if it's where you want to be. How does your career help you achieve that life? What would your ideal role and employer look like? Would it even be an employer or would you prefer to work for yourself?
Know what YOU want
How do you typically start your job searches? Do you type a job title into LinkedIn, Indeed, etc and review whatever is available? Then search and search to see if there are any roles that sound interesting?
This is how most candidates start their job search. They look for roles that sound interesting and see if they have the qualifications to apply.
The only issue with this formula is that you are trying to fit yourself into a role. Doesn't that seem a bit backwards to you?!
So flip the script and change the way you look at your job search! Take time to think about what you are really looking for in a role, before you start the search. You will be less likely to waste time applying for roles that aren't suited to you.
Personal Goals
Before any job search sit down and think about your personal goals. Where are you in your life? Where do you want to be? What are your life goals? What are you working for (aka what is Your Why?)
Are you in a place in your life where you can dedicate a lot of time to your career? Are you looking for more flexibility? Do you want to work for an inspirational thought leader in your field? Do you want a comfortable job that is local and fulfilling? Think about what you have learned up to this point and what your next steps should be to reach this vision.
Desirable details
Now that you have a more holistic idea about what you are working for in life, let's start to sharpen the image with details.
Consider the ideal location, industry, salary, benefits, department, etc of your next role. Keep this somewhere handy when you are applying so that you can review it against roles. You don't have to find a role with all of your ideal points but it will help you more efficiently weed out roles that lead to an unfulfilling future. Think about what you want to wear. Where you would like to sit. Visualize it so you have a clear target.
Make a target list
Research some of the best companies to work for in your city. Research their leaders and what staff say about them on Glassdoor, what qualifications you may need and if there's anyone in your network that may have a connection to those companies.
Write it all down. It may even help to envision what you want your life to look like. Are you happy with the home you are in? Would you like to go on more holidays?
Keep this document close at hand when applying for roles and review it whenever it's time to start a new job search.
Being a Polymath
Also know as: jack of all trades, renaissance person, multipotentialite
How are you honing this knowledge? What additional lessons can help make you more adaptable? Having a wide range of skills makes you more likely to come up with multiple solutions, especially when Plan A goes to pieces. The more you know the better equipped you'll be to battle complex issues.
Assistants have many talents and areas of knowledge, which just so happens to be the definition of a Renaissance Person or a Polymath. You are continually learning and adapting to your environment to solve problems on a daily basis. You are the "go to person" when anyone needs quality information and a safe pair of hands for important tasks and projects.
Skill Up
Assistants are great at problem solving because they aren't afraid to dive in and learn what is needed to get the job done. However, this tends to be a more reactionary learning pattern as opposed to a proactive one.
If you could take the time to be proactive, what would you learn? Below you will find some ideas that could help you expand your abilities and become a top performing assistant.
I'm still learning.

Michaelangelo
Applications + Software
The role of the assistant is ever evolving. The squeeze is on to do more in less time. How are you using the latest tech and applications to help you do your job at peak performance? What applications do you wish you knew more about?
Soft Skills
Some assistants struggle with authority, confidence and finding their voice. They are conflicted between offering assistance and managing their superiors and colleagues in following procedure or keeping in line on large scale projects.
Productivity
Having your trusty notebook is great but once your To Do List goes beyond one page how do you keep track of it all? Could you use a refresher on how to prioritise your day? Do you know the best way to triage your inbox?
Beyond
Do you know how your principal optimizes his or her time? Do you know how software engineers use Scrum boards to sprint through their weekly To Do Lists as a team? Could these skills help you perform your own role better? You bet!
Inside the course, you will also find a workbook full of prompting questions to encourage self-discovery and start your intentional search journey.
Want more?
Check out our Getting the Job course!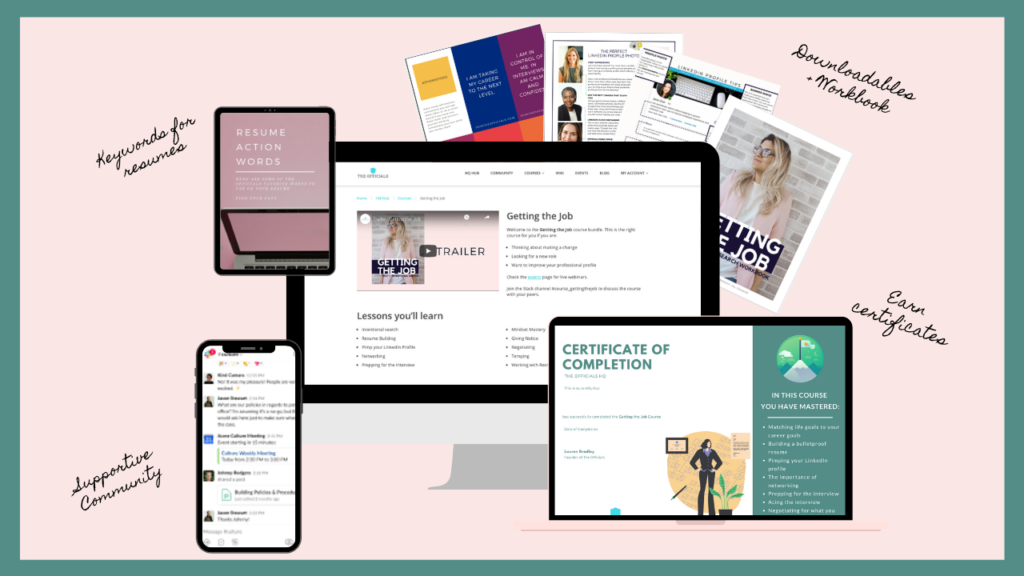 When you are done with the course, you will:
And if that wasn't enough, you will also become part of our amazing Officials Community with whom to build your support team.
Want Full Access?
Our doors are open for a limited time.

Make it Official.
And if you are thirsty for more, our doors are open, and you'll be able to get full access to all of the knowledge you need to be a successful admin and/or assistant.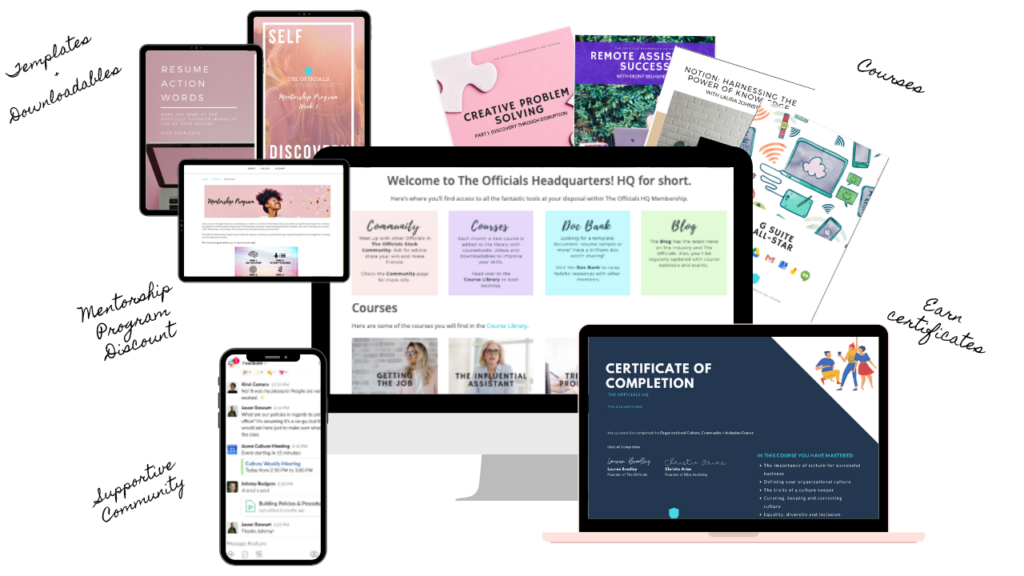 We don't want anyone to miss out on vital training and support because of cost, which is why The Officials HQ membership is so affordable.
Level up and join The Officials today today.
And if that wasn't enough, you will also become part of our amazing Officials Community with whom to build your support team.
This pricing includes an initial $25 joining fee.
Click on each membership to find out more.
Monthly
1 month for $46.99 then $21.99/Month
Monthly Promo
One charge of $81.07 (15% discount) for first 3 months, then $21.99/Month
Annual
First year for $270 (7% discount) then $245/Year
Paying in a currency other than USD? Check current exchange rates here. This is just a link to common exchange rates. Your financial institution will do the final exchange, the link provided is just for estimation purposes.

Cancellation – The power is in your hands. You have the ability to cancel at any time in the Account section. If you cancel your membership, all future payments will be canceled and you will have access until the current billing cycle ends.