PA Show 2021 – UK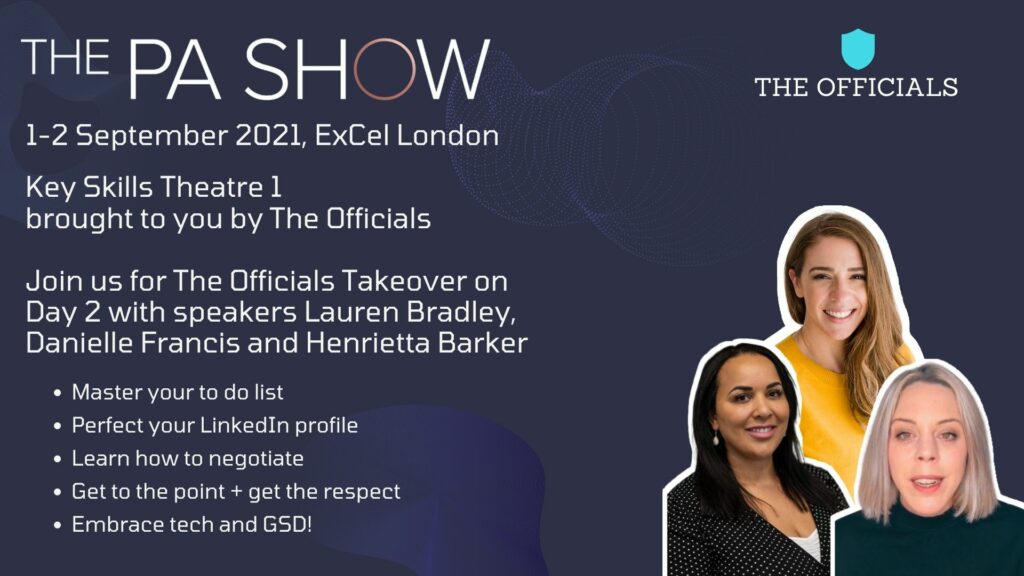 September 1, 2021
@
8:00 AM
–
September 2, 2021
@
5:00 PM
BST
The PA Show is the largest gathering of Executive Support Professionals in the UK, bringing together 1,000s+ of the community under one roof on the NEW dates 1-2 September 2021, at ExCeL, London.

The Officials will be sponsoring Key Skills Theatre 1. You can check out the conference programming here.
The Officials is doing a massive takeover of the Key Skills Theatre 1 on Day 2! We and our partners will be presenting the most impactful sessions that will help you skill-up today, including:
10:00 – 10:50 Create automated processes with Google Workspace by Lauren Bradley
Do you know that you have tools at your fingertips right now that can help you automate your day? In this session, Lauren will walk you through how to utilise Google Forms, Google Sites, Google Drive and Gmail to create a cross-department process such as onboarding, event mangement, book travel and more. This session is meant for anyone that have a Gmail account whether it is work or personal. Lauren is known for breaking down tech in practical ways for the non-technical and tech lover alike to show you why now is the time to embrace intuitive tech.

11:00 – 11:50 How to Get Your Dream Job to Find You by Lauren Bradley
Learn how to wield the power of LinkedIn to set a beacon in the dark for your dream job to find you. In this session you will learn some of the best tips and tricks to bring traffic to your digital profile.

12:00 – 12:50 Nail The Negotiation: How to Add £10k to Your Pay by Hen Barker and Lauren Bradley
Stop leaving thousands on the table. Lauren Bradley, admin trainer, and Henrietta Barker, recruiter and podcast host, team up to bring you their best tips for getting the money you deserve.

14:00 -14:50 – Agile for Assistants: Get your projects under control by Lauren Bradley
In this session, Lauren will give you an introduction to Agile methodologies used by software engineers to sprint through their to do lists and manage projects and explain why administrative professionals should be paying attention to this. Don't worry! This session won't go over your head as Lauren will be breaking it down in a practical way for the non-techy.

15:00 – 15:50 – Communicate with Confidence by Danielle Francis
In this session you can learn about how to use the power of 3 and become your own superhero. Learn how to master the art of communicating no matter what the topic and raise your profile within your organisation.

16:00 – 16:50 Purpose + Prosecco: How to Articulate Your Value
Come have a toast and let's celebrate you! Learn how to find the language that connects the value you bring to those around you. It is crucial to know how to articulate your value in the interview, 121s, performance reviews and more. There is no room here for, "Just an assistant," talk. Instead we'll be raising the roof, raising your profile and raising a glass!
No need to pay full price for your delegate ticket. Use this exclusive discount code: PAShow90