Job Search Secrets: Pro Tips to Get You The Job in collaboration with CAROO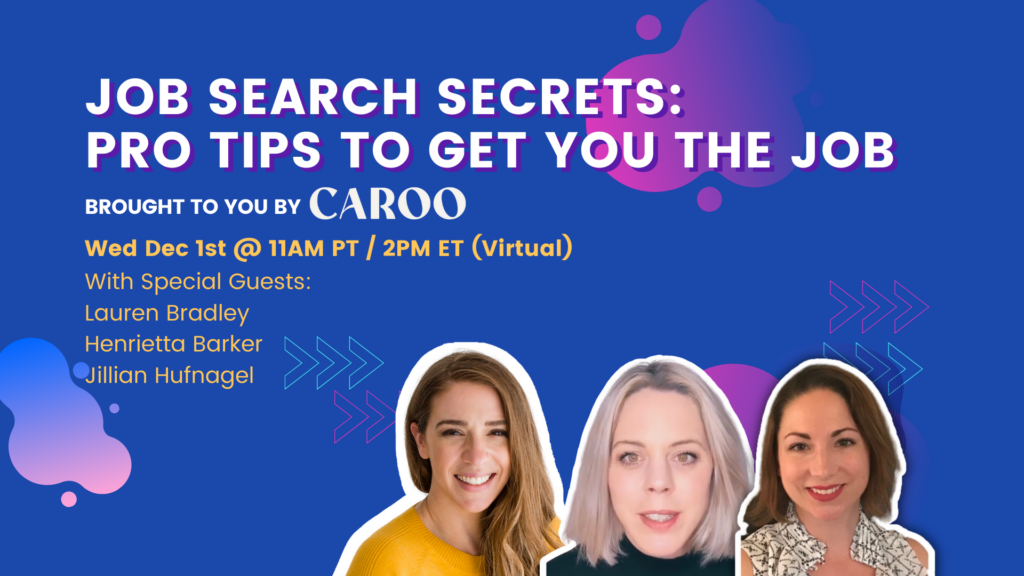 December 1, 2021
@
7:00 PM
–
10:00 PM
GMT
When was the last time you updated your resume?
Do you know how to drive traffic to your LinkedIn profile?
Suck at negotiating your worth?
Not even sure how to say what you do other than to say, "Inbox and calendar management"?
Not to worry! We've got you! Attend our online training event filled with pro tips to help you get the job. Industry leaders Lauren Bradley, Hen Barker, and Jillian Hufnagel will each break down their insider knowledge.
Agenda
Each session will be 50 mins with some time for Q&A before the next session.
2:00 PM EDT Welcome by Joanna Ericta, SoTEA & The Assist
2:10 PM EDT How to get your dream job to find you with Lauren Bradley
Learn how to wield the power of LinkedIn to set a beacon in the dark for your dream job to find you. In this session you will learn some of the best tips and tricks to bring traffic to your digital profile.

3:00 PM EDT Nail the Negotiation: How to Add $10k to Your Pay with Henrietta Barker
Stop leaving thousands on the table. Lauren Bradley, admin trainer, and Henrietta Barker, recruiter and podcast host, team up to bring you their best tips for getting the money you deserve.
4:00 PM EDT Showcase Your Value with Jillian Hufnagel
Jillian Hufnagel will discuss how you can let your worth shine and boost your career development in the process. This session is crucial not only for the interview stage but for resume writing, 1-2-1s, annual reviews and more.
This is a Name Your Price Event
This is a Name Your Price event. You choose to pay $5, $10, or $20.
We believe in fair exchange for our speakers and know all too well that speakers in our industry are being asked to speak only for exposure with little else on offer.
We have three incredible speakers here who have offered to speak at a discount for our amazing group because of the unique times we are in. Please feel free to pay what you can.
Choose your price. All packages are the same but you can choose how much you wish to contribute to the speakers.