Emotional Intelligence in the Workplace – The Officials x EA Inc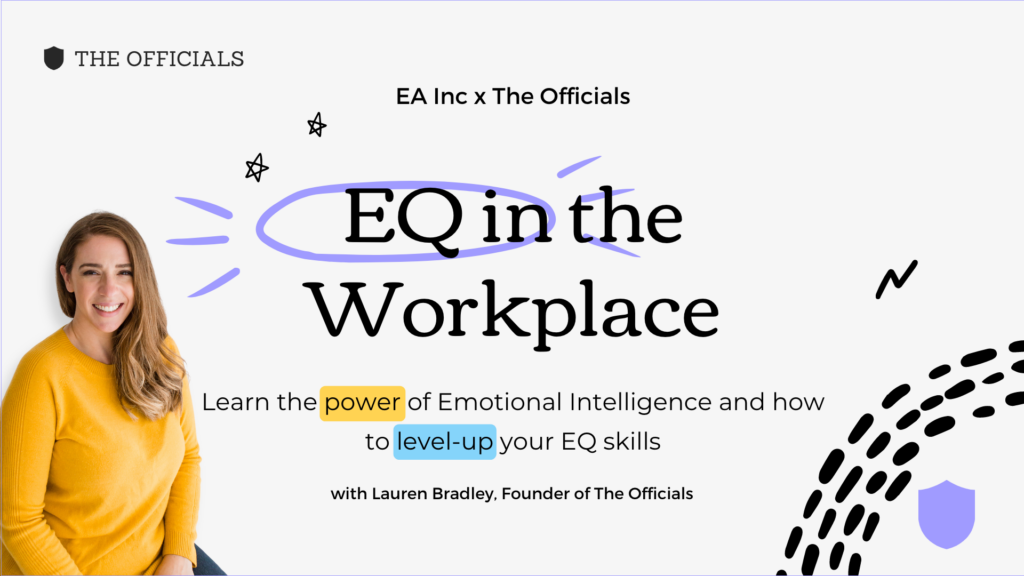 May 17
@
9:00 PM
–
10:30 PM
BST
Learn the power of Emotional Intelligence and how to level-up your EQ skills
As an assistant, you already have a valuable set of skills – and Emotional Intelligence is one skill you are poised to master. It's one of the most in-demand soft skills by employers, and it can help you excel in your role and advance your career.
During this webinar, you'll learn the basics of the Emotional Intelligence Model and its competencies, and how to get started cultivating your own EQ.
This webinar is perfect for assistants who want to improve their influence, harness their spidey-senses, and take their career to the next level.
Enroll now to join the webinar and start mastering Emotional Intelligence in the workplace!
This session will run between 60-90mins and will be a recorded live session.

Please note: The recording will be available to EA Inc and The Officials HQ members after the event.

Webinar Runtime: 60-90 minutes
About EA Inc
Based in New Zealand, EA Inc. aims to be a membership platform dedicated to supporting the careers of Executive and Personal Assistants through the power of connecting and mentoring – they are an inclusive environment, where assistants can be inspired, motivated and empowered to be the best they can be.
It is our desire to be a valued contributor and mentor to our Members, helping them work towards building a stronger network of like-minded professionals, that all dream to exceed expectations and achieve greatness in their careers.
EA Inc. is the vision and brainchild of Kelly Warton. Kelly is the Chair of EA Inc. and a senior Executive Assistant with over 15 years experience working with CEOs, directors and entrepreneurs. Joining her on the Committee and helping to bring the vision alive are Hayley Lipp, Tina Shepherd and Jocelyn Brice. Please visit our Committee page for more information on Kelly, Hayley, Tina & Jocelyn.
hello@jointheofficials.com