Cabinet High Performing EA Summit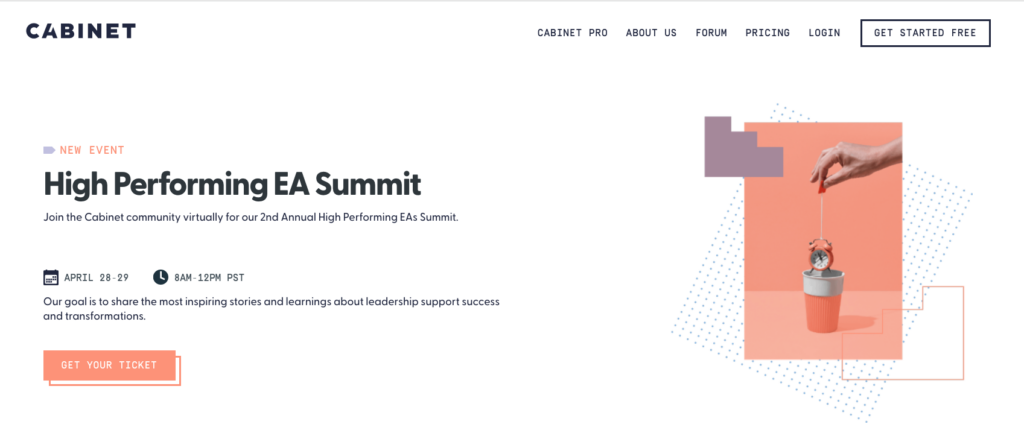 April 28, 2022
@
8:00 AM
–
April 29, 2022
@
12:00 PM
PDT
Lauren will be speaking at this event on Visibility While Remote at 9:00am – 9:30am PST on Day 2.
From the Cabinet Team:
Our mission behind the High Performing EA Summit is to inspire. So the team at Cabinet is partnering with Executive Assistant gurus and productivity experts like Hallie Warner, Lauren Bradley, Abigail Barnes, and more to bring you new ideas and powerful stories to inspire you, wherever you are in your EA journey. This VIRTUAL two-day event will take place during Administrative Professionals' Week, for 3 hours each day.
After last year's event, we received numerous kind emails, including one attendee who wrote, "The Summit was AWESOME! The women were so real and I learned a lot just listening to them. It made me feel like I wasn't alone." It's a one-of-a-kind event with real, authentic speakers who are making a recognized impact every day. So, we know you have many choices when it comes to professional development, but we sincerely hope you'll join us this year. In honor of Administrative Professionals's week this year, ask your team for some flexibility on April 28th and 29th and attend the High Performing EA Summit.